Student Services
Ventura College East Campus offers student services to all Ventura College students and prospective students. Bilingual (English/Spanish) staff are on site to assist students with educational planning, admissions, and registration.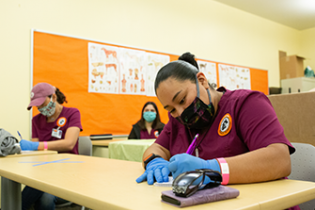 Admissions and Registration
Admissions and Registration
Please contact the Compass Welcome Center at (805) 289-6420 for help with admissions, student portal setup, and registration.
Compass Welcome Center Fall Office Hours: Mon/Tues: 8:30am to 6:30pm | Wed/Thurs 8:30am to 5:00pm | Fridays from 8:30am to 1:00pm
Please call the Admissions & Records Office for help with student forms and transcript requests at (805) 289-6457.
Academic Counseling
Monday to Thursday, morning and evening appointments are available.
Call (805) 525-7136 to schedule an appointment.
Financial Aid In-person Specialist
Beginning in September a Financial Aid Specialist will be available. 
Second Tuesday of each month from 2:30pm-4:40pm & fourth Monday of each month from 4:00pm-6:00pm.
Parking
No parking permit is required at the East Campus.
Bus Information
Obtain a Student ID Card at Ventura College East Campus and Ride the Bus for FREE!
Vista Highway 126 - Vista bus stop near the East Campus at the old Kmart building, midblock on Faulkner Road. Visit www.goventura.org for schedules and routes.
Valley Express - Fixed route, ADA-Paratransit and general-purpose Dial-A-Ride in Santa Paula, Fillmore, and Piru.  Visit
www.valleyexpressbus.org for schedules and routes.