Under the direction of the President, the Vice President for Student Affairs serves as the Chief Student Services Officer and is responsible for the overall design, organization, delivery, supervision, evaluation, and fiscal management of a comprehensive student development program charged with promoting and delivering programs and services that enhance student success, achievement, and retention. These areas include Admissions and Records, Basic Needs, Counseling Services, Financial Aid, Student Health Center, Student Conduct, Title IX Compliance, Educational Access Center (DSPS), Dreamers, Foster Youth Services, EOP&S Program, Student Outreach, First Year Experience, Veterans' Resource Center, CalWORKs, Student Engagement, International Student Services, Learning Resource Center/BEACH, Student Activities, Tutoring Center, University Transfer Center, Career Services Center, Welcome Center, and VC East Campus in Santa Paula.
---
The Vice President for Student Affairs Office is located in the Administration Building and is open Monday through Friday from 8:00 am to 5:00 p.m. and by appointment. For more information, click on one of the links below or feel free to call (805) 289-6464.
Vice President's Office
Vice President for Student Affairs
Phone: (805) 289-6113
Office: Ventura College ADM-17
Administration Building Ventura College
4667 Telegraph Road, Ventura, California 93003
Bio: Dr. Peña began his role as our Vice President for Student Affairs in July 2016.  Dr. Peña served as the Associate Vice President for Student Affairs at California State University Channel Islands from 2007-2016.  Prior to CI, he served as the Senior Director of Academic Programs at California Lutheran University from 1997-2007.  Dr. Peña is a first-generation college student who is actively involved in the community and is a proud graduate of Ventura College. He is involved on a statewide and national level as a member of the NASPA (Student Affairs Administrators in Higher Education) Western Regional Board of Directors. On a personal level, his commitment to supporting the inclusion of Latinx and other historically marginalized student groups is grounded in his desire to give back to his community. He was born and raised in Ventura County (Oxnard) and worked directly for over 24 years with under-served student populations in higher education, including first-generation, low-income, and Latinx students. He is a father to a son with non-verbal autism and an active member in the disability community of Ventura County. Together, these personal experiences have led him to support students of all backgrounds with compassion.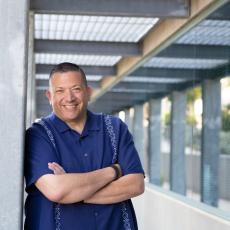 Senior Administrative Assistant
Phone: (805) 289-6464
Tisa joined Ventura College in March 2019 as an Office Assistant and has supported the Ventura College Executive Team since August 2020. She is a proud first-generation college student and Ventura College alumni, Class of 2020! She is continuing her educational goals at California Lutheran University and will graduate with her M.A. in Counseling and College Student Personnel in December 2025. Her passion is to give back to a community that has fostered so much growth in her own academic goals and help the next generation of students. When she is not working, she enjoys traveling and spending time with her family.