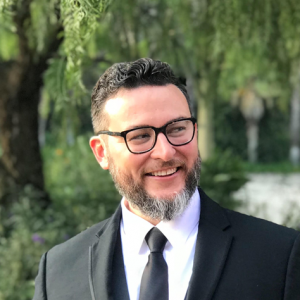 Ventura College Faculty Dr. Francisco Fuentes Obtains Pacific Coast Business Times 40 Under 40 Recognition
By Su-Lin Rubalcava
Dr. Francisco Fuentes, the newest faculty member at Ventura College and Chicano Studies/Ethnic Studies professor, was recently recognized by the Pacific Coast Business Times with a 40 Under 40 award.
"I think the biggest professional honor for me isn't the business award. It is the trust Ventura College has given me to be a part of campus life and play a significant role in developing American Ethnic Studies," said Dr. Fuentes who was surprised and honored to be part of the 40 Under 40 this year.
"Being a first-generation college graduate, I had to figure out a lot on my own. Now that I am at Ventura College, I want to make sure first-generation college students know they are not alone and have the entire campus cheering them on."
Dr. Fuentes grew up in an immigrant working-class home a mile away from the Mexican border in San Diego, California. He was the first in his family to graduate from high school and attend college. After working for a Fortune 500 company in corporate strategy, Dr. Fuentes decided to pursue an advanced degree. He has 10 years of higher ed teaching experience at Hispanic-Serving Institutes. He left his teaching post at UC Berkeley in 2013 to become a founding member of Samaschool, a non-profit which trains under-resourced college students to rapidly develop new skills to compete and succeed in the digital economy.
For the last 10 years, Dr. Fuentes has worked heavily in the intersections of technology, research, and equity to add social value to organizations and institutions alike. He has consulted for companies like Uber, AdRoll, Air BnB, DevBootcamp, and directed the launch of The Salvation Army's first Impact Center, a co-working space to fight poverty in San Francisco's poorest neighborhood.
Dr. Fuentes is a two-time National Science Foundation fellow in the social sciences and holds a Ph.D. from the University of California in Chicana and Chicano Studies, with a research focus on the political economy, workforce diversity, and underrepresented populations.
"We are thrilled to have a faculty member with such prestige join Ventura College! His wealth of expertise in working with students and his dedication to ensuring students' success, especially the underrepresented population is admirable," said Lisa Putnam, Ventura College Dean – Library, Language, American Ethnic Studies, Behavioral & Social Sciences. 
By investing in partnerships and collaborations, Dr. Fuentes aims to open doors and build bridges to promote the movement of cultures, resources, and possibilities for a truly integrative future where every person can thrive anywhere.
"There are so many 40 Under 40 who have achieved so much for the tri-county region. Being named among such a distinguished group is not just an honor but also a responsibility to continue to give back to my county and community," said Dr. Fuentes.