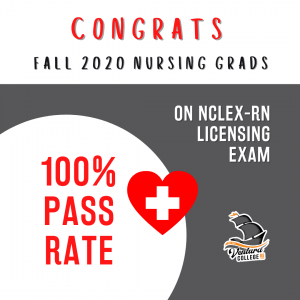 Ventura College Nursing Students Pass Licensing Exam With 100%
Congratulations to our Fall 2020 Nursing Science graduates who have a pass rate of 100% on the NCLEX-RN exam. In the midst of what seemed at times like unconquerable odds, our students have persevered and excelled!  
Congratulations to our dedicated faculty for the outstanding and innovative education you provide to our Nursing Science students. Thank you for giving the very best of the best. You gave your all. Our students gave their all. It takes a village.
The Registered Nurses coming out of Ventura College continue to deliver quality, compassionate care to patients in a time when their services are in great need.
(These results are for the students who have tested so far.)