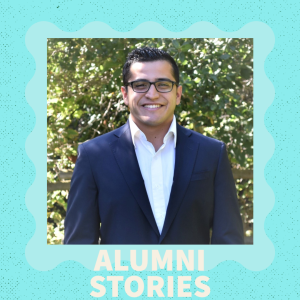 Primed for Success Following his "VC Experience"
In high school, Diego Ruvalcaba enjoyed woodworking, math, science and physics. When one of his teachers recommended that he translate these interests into studying architecture or engineering, Diego was surprised.
"What's engineering?" he remembers thinking. He started researching the field, and the more he learned, the more he was interested. In 2014, he began his engineering studies at Ventura College.
A first-generation student, Diego enrolled at the college to stay local and save money and have the opportunity to apply to his dream school – Cal Poly, San Luis Obispo.
His decision led to a fulfilling time at Ventura College, where he graduated in 2017. "I met great friends there. Everybody was studying the same subject, and you're around like-minded people," says Diego, who is now an entry-level mechanical engineer at Haas Automation.
Diego augmented his education by joining two clubs that focus on engineering: VC's MESA (Mathematics, Engineering and Science Achievement) Program and the Society of Hispanic Professional Engineers Ventura County Chapter (SHPE VCC), which serves as a professional resource to STEM students.
"MESA brings all the STEM majors together at the MESA Center, where you can talk about classes. That really helped me because there were students in MESA who were about to transfer, and I could ask them what helped them the most [with their studies]."
Through MESA, Diego became involved with SHPE VCC. He took part in their national conference, which included career fairs, workshops and research presentations. "I saw the world of engineering unfold and the opportunities that I could have," he says.
In his second year at Ventura College, Diego launched the engineering club, now called "Engineering Society." "I wanted to create a club where engineers could work on projects together, have hands-on work experiences and give each other feedback," he says.
His participation in these clubs, and his courses at the college, helped him to achieve his goal of getting accepted to Cal Poly. Diego's professors who taught these classes also prepared him for Cal Poly and his career.
"Dr. [George] Warren's statics/mechanics class at VC was tough, but really prepared me for university-level classes," he says. He adds the number of assignments Warren gave helped sharpen his time-management skills required to succeed in upper-level coursework. 
In Michelle Millea's engineering drafting course, Diego learned about SolidWorks, a computer-aided design program that creates 3-D parts. He uses this program daily in his job, where he improves on Haas product designs and models new products that will help manufacturers around the world.
Diego appreciates his high school teacher for seeing his potential and for his Ventura College experience.
"I have my career, thanks to my high school teacher who recognized my potential and the experiences at Ventura College."